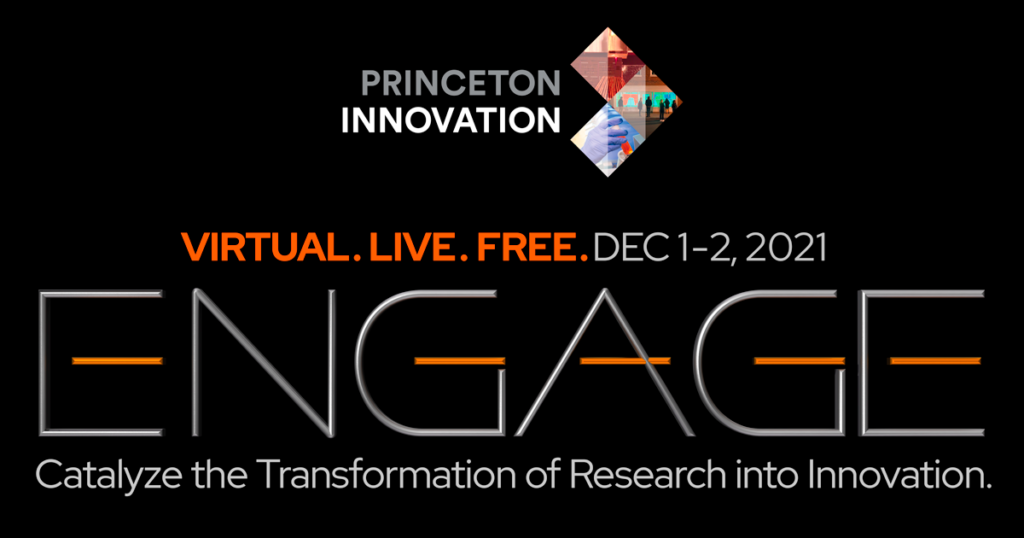 Engage 2021, Princeton's second annual innovation and entrepreneurship conference, will be held online Dec. 1 and 2. The conference, which is free and open to everyone, offers opportunities to learn about, and catalyze, the transformation of discoveries into innovations that benefit society — from biomedicine and clean energy to wireless, cryptocurrency and quantum computing.
Faculty, researchers, students and alumni from Princeton and other institutions, entrepreneurs and those entrepreneurially-minded, industry representatives and government policymakers, are invited to register for the conference. The two-day virtual gathering, hosted by Princeton Innovation, will include tips and case studies on successful new technologies and academic-industry partnerships, as well as guidance on funding opportunities for research and entrepreneurship, with a special focus on the growing innovation ecosystem in New Jersey and the tri-state area.
"By bringing people together from across the regional and global innovation ecosystems, Princeton is helping to grow a robust and inclusive environment that brings positive impacts to the broader community, the economy, and to daily life," said Vice Dean for Innovation Rodney Priestley, the Pomeroy and Betty Perry Smith Professor of Chemical and Biological Engineering.
Priestley leads Princeton Innovation, a University initiative that supports faculty, students and researchers as they transform discoveries emerging from science, engineering, social sciences and humanities into ventures and activities that can create a positive impact on society. Priestley will kick off Engage 2021 with updates on the initiative, which is part of Princeton's Office of the Dean for Research.
Headlining the conference will be Marian Croak, Class of 1977 and vice president of engineering at Google, in a conversation with chair of computer science Jennifer Rexford about the contributions of women in STEM fields, the importance of mentorship, and being an intrapreneur and innovator at a large company. This year, Croak became one of the first two Black women inducted into the National Inventors Hall of Fame, in recognition of her work on advancing Voice over Internet Protocol (VoIP) technologies, a key development in audio and video conferencing.
Another keynote session will feature a conversation between Andrea Goldsmith, dean of Princeton's School of Engineering and Applied Science, and Naveen Verma, director of the Keller Center for Innovation in Engineering Education. They will discuss developments and opportunities for innovation in the New Jersey region, and connections between entrepreneurship, research and teaching at Princeton.
"This conference will help enable all of us seeking to make a positive difference — engineers, scientists, humanists, social scientists, business leaders and startup enablers — to engage with each other in fostering innovation that strengthens society," said Goldsmith, the Arthur LeGrand Doty Professor of Electrical and Computer Engineering, who has founded two companies around her expertise in wireless technology.
As part of the conference, the 13th annual Celebrate Princeton Innovation showcase will honor Princeton faculty-led discoveries in life sciences and technology that have the potential to become everyday innovations.
The showcase features 10 Princeton faculty experts discussing their discoveries on topics including a new technology to prevent smartphone theft, new anticancer therapeutic strategies, early detection of autism and other neurobehavioral conditions, clean and inexpensive lithium-ion battery recycling, electric bandages, and more. The keynote address will feature blockchain-technology startup Offchain Labs' cofounder Edward Felten, the Robert E. Kahn Professor of Computer Science and Public Affairs, Emeritus.
Mohammad Seyedsayamdost, professor of chemistry, has been selected to receive Princeton's second annual prize for innovative faculty, the Dean for Research Award for Distinguished Innovation, for the creation of a method for discovering new anti-infective agents, including drugs that treat bacterial, viral and fungal infections. Seyedsayamdost, who has cofounded the startup Cryptyx Bioscience, will receive the award and give a talk about his technology.
Engage 2021 will also feature a New Jersey startup showcase of academic scientists and engineers raising venture funds for companies based on their research, including Marcus Hultmark, an associate professor of mechanical and aerospace engineering at Princeton. Hultmark and his team recently received an Edison Patent Award from the Research and Development Council of New Jersey for their low-cost, nanotechnology-based industrial velocity sensors.
Hultmark's company, Tendo Technologies, was launched in 2018 with support from the National Science Foundation Innovation Corps (I-Corps) program and the eLab Summer Accelerator at Princeton's Keller Center. Princeton is now the leading institution of the I-Corps Northeast Hub, which was announced earlier this year with a $15 million grant to accelerate the impact of federally funded research and advance diversity in entrepreneurship. I-Corps Northeast Hub leaders from Rutgers, Rowan and Drexel Universities will discuss the hub's activities and opportunities in a panel discussion.
Another panel discussion will cover the benefits of joining a startup accelerator, and how to choose the right accelerator and create a strong application. Representatives from the accelerators QED, VentureWell and FedTech will join the conversation, as will Garrett Winther of the HAX accelerator. HAX recently announced it would establish its U.S. headquarters in Newark, New Jersey, after a persuasive State of New Jersey pitch supported by Princeton Engineering dean Goldsmith on behalf of Princeton. HAX aims to invest $25 million in 100 new technology companies over the next five years with a focus on "re-industrialization and decarbonization of the U.S."
Engage 2021 sessions will feature many Princeton science and engineering faculty members, along with panelists from industry and other universities, discussing emerging technologies in decarbonized transportation, cancer research, quantum computing, wireless communications, and artificial intelligence in bioengineering.
"Our vision is for Princeton to be a catalyst for a diverse, inclusive and human-centered high-tech hub for the entire tri-state region," said Goldsmith. "We have much exciting progress, but we need to keep building partnerships. I encourage anyone with a passion for building new ventures and harnessing technology for the good of humanity to join us."