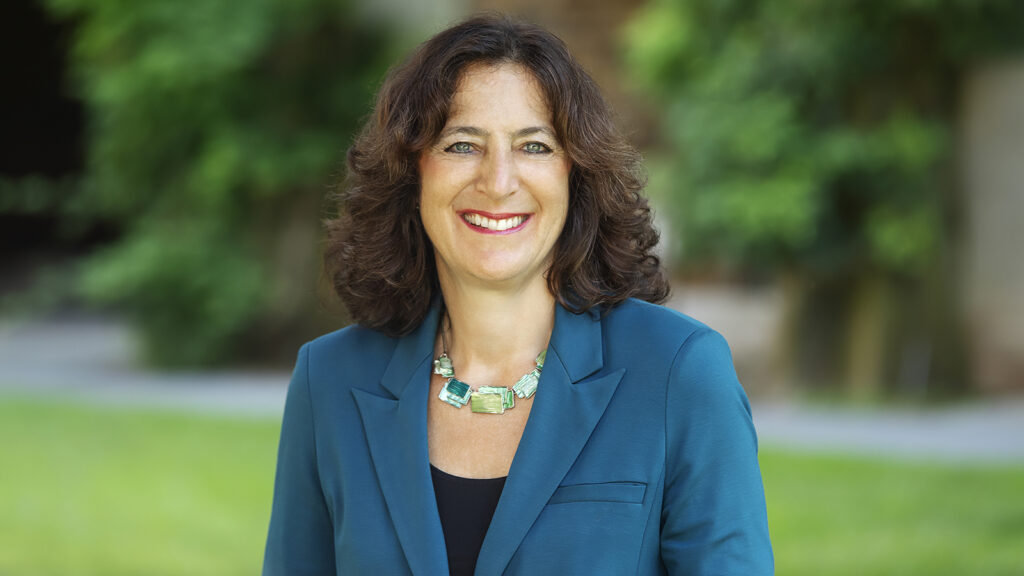 Wireless communications pioneer Andrea Goldsmith, dean of the School of Engineering and Applied Science, has received the 2022 SIGMOBILE Outstanding Contributions Award, the highest honor from the mobile systems branch of the Association of Computing Machinery (ACM).
Goldsmith, the Arthur LeGrand Doty Professor of Electrical and Computer Engineering, helped shape today's mobile technology and laid ground rules for cellular and Wi-Fi network performance. Her foundational approaches to increasing the capacity, speed and range of wireless systems have become bedrock for managing the dynamic conditions of modern networks.
The SIGMOBILE award cites Goldsmith's "fundamental research, successful entrepreneurship, and inspired leadership," especially in developing adaptive and multi-antenna systems.
Goldsmith previously co-founded and served as chief technology officer for Plume WiFi, which sells in-home Wi-Fi mesh networks, and Quantenna Communications, a chip maker that was acquired by ON Semiconductor Corp. for around $1 billion in 2019.
She currently serves on the President's Council of Advisors on Science and Technology (PCAST). PCAST is the sole body of advisors from outside the federal government charged with making science, technology, and innovation policy recommendations to the President and the White House, as well as on matters involving scientific and technological information that is needed to inform policy affecting the economy, education, energy, the environment, public health, national and homeland security, racial equity and other topics.
Goldsmith has been widely recognized for her work making science and engineering more diverse and inclusive in both academic and industry settings. She founded and chairs the Board of Directors committee on enhancing diversity and inclusion in the Institute of Electrical and Electronics Engineers (IEEE), and she led an initiative at Stanford University aimed at improving recruitment, retention and support of women and diverse faculty members. She has also established awards in ACM and the IEEE to recognize outstanding accomplishments of early-career women. As dean of engineering at Princeton, Goldsmith has pursued a bold vision for growth, innovation and inclusion that aims to increase the impact of the school on the most challenging issues facing humanity.
Goldsmith received her bachelor's, master's and doctoral degrees in electrical engineering at the University of California-Berkeley. Between her bachelor's and master's degree she worked in defense communications in Silicon Valley. She began her academic career at the California Institute of Technology before joining the Stanford faculty in 1999. She was named Stanford's Stephen Harris Professor of Engineering in 2012, and is now Harris Professor, Emerita. Goldsmith joined the Princeton faculty in 2020.
ACM previously honored Goldsmith with the 2018 Athena Lecture Award. In 2020, she became the first woman to win the Marconi Prize, considered the top honor in telecommunications. She is a member of the National Academy of Engineering and the Academy of Arts and Sciences, an author or co-author of four books on wireless communications and an inventor on 29 patents.